A closet was converted into a Powder Room in this award-winning remodel in the Park Plaza condominium, a mid-rise in Highland Park,Texas.
Renowned Renovation has been described by one client as being "concierge builders." Our award-winning work includes every step of the planning, demolition, renovation, and interior design. Call us today to discuss the vision you have for bathroom remodeling, additions or a new residence. We guarantee that after you work with Renowned Renovation, you will love your home more than you could ever imagine.
A Powder Room Conundrum
The homeowners of the Highland Park Plaza condo never liked the existing location of the powder room, It was previously placed close to the living room and wasn't very private.​
Renowned Renovation's powder room designs focused on converting a closet located behind the wet bar of the home library.
Interestingly enough, in the original blueprints of the condo, the closet was set up to be a bathroom. However, this plan did not materialize during the many decades and now the second generation this condo has been in the family of our clients.
While discussing layout and design concepts, we always have to consider the big picture of the home. For example, could converting a closet to a powder room minimize storage in a negative way? Luckily, in this home, there's an abundance of storage.
There were two closets, in addition to the one we converted, near to the home library. In this case, the design concept was an easy one to make, considering the homeowners always wanted a powder room here, and the new location is much more private to guests.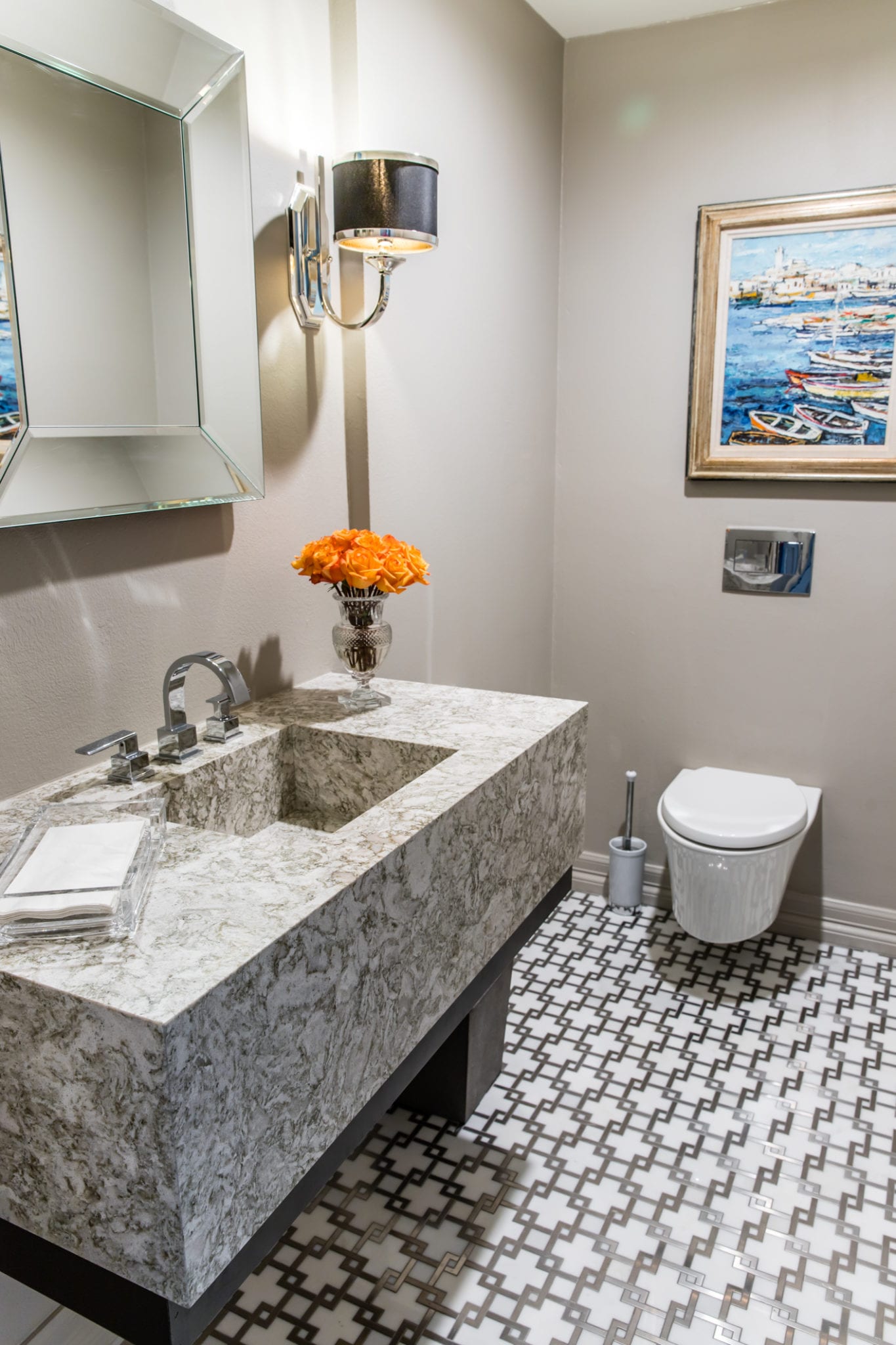 Condo Renovation Challenges
Renowned Renovation is a 2020 award-winning team that knows how to work with the challenges that come with remodeling condominiums and trust us, there are many.
For starters, it's extremely important to us that we minimize the impact renovations have on condo neighbors. We are accustomed to working directly with building codes, managers and the local HOA's standards. Additionally, there are often quirks to a condo that make certain aspects of remodeling more difficult than a single-family home. At the Highland Park Plaza mid-rise, the obstacles we faced included:
We could not "core" the wall to install a toilet (i.e. no drilling allowed in the core of the building), so we had to do a wall hung toilet instead.
There was only one wall we could mount the toilet.
The way the door opened provided limited space for a bathroom vs. a closet.
The Benefits of Wall Hung Features
Wall hung toilets and sinks are a great solution to working with smaller spaces. Wall hanging is a clean look, especially for bathrooms. By eliminating the cabinets typically included under sinks, clients can easily modernize a room. Especially in a powder room, there is less need for storage because it typically will not include bath towels and toiletries.
In this closet converted to a powder room, we built an integrated sink our of Cambria Surfaces and paired it with a wall-hung toilet for a minimalist look.
Lead Interior Designer for Renowned, Melissa Blassingille shares, "I always tell people you can get more glamorous in a powder room because it's not your main bathroom. And it becomes a conversation piece." - Melissa
Glamorize Your Powder Room
As you can see in the video, the interior design of this small space is exquisite. The floor is stunning and bold. This is a great opportunity to go all out on patterns because people are spending less time in this space, therefore, it won't be overwhelming.
It's true that in small spaces you want to use less bold colors because it will make the room feel smaller. However, playing around with pattern possibilities is a fun way to add a certain pazazz to your home that you might not feel inclined to do elsewhere.
The client found the floor tiles and we knew right away they were perfect for the concept. They are an Ann Sax pattern, by designer Kelly Wreser.
The mirror was also picked out by the client. Melissa gave them the measurements and they had fun searching for the style they wanted. This is a great designer/client balance that really makes the home have personal touches that are hand-picked by them while being guided by an expert.
Design Your Home With an Expert
In general, a lot of renovations can feel challenging because the remodeling team might be qualified contractors with excellent craftsmanship, but the company might lack an interior designer. This often puts clients in complete control of the paint colors, flooring selection, countertop, lighting, fixtures, window treatments and so on. While that sounds really fun for people who have an eye for design and know exactly what they want, other people need support in the design process.
Melissa says that most of the time the clients like to be involved. She will give them some parameters and steers them in the direction and gives them the opportunity to find what they want.
Whether you have a designer mind or know that you want to work with a professional, Renowned Renovations is here to work alongside you in the plan to create your perfect home. As a luxury renovation team, we will bring our concierge service to your home.
Call us today for a free consultation. (972) 232-712​​2. Check out this condo's home library remodel and the incredible line of Hunter Douglas window treatments that the client selected with help form our Interior Design team. Powerview Motorization by Hunter Douglas was used throughout the residence.