Dallas Window Blinds, Shades, Shutters & Sheers
Find your ideal window treatments, shades, shutters, sheers, and blinds at Renowned Renovation! Choose from over 300 fabrics. Convenient Highland Park Hunter Douglas Windows Fashion Showroom located in Highland Park, TX. Get your free estimate today!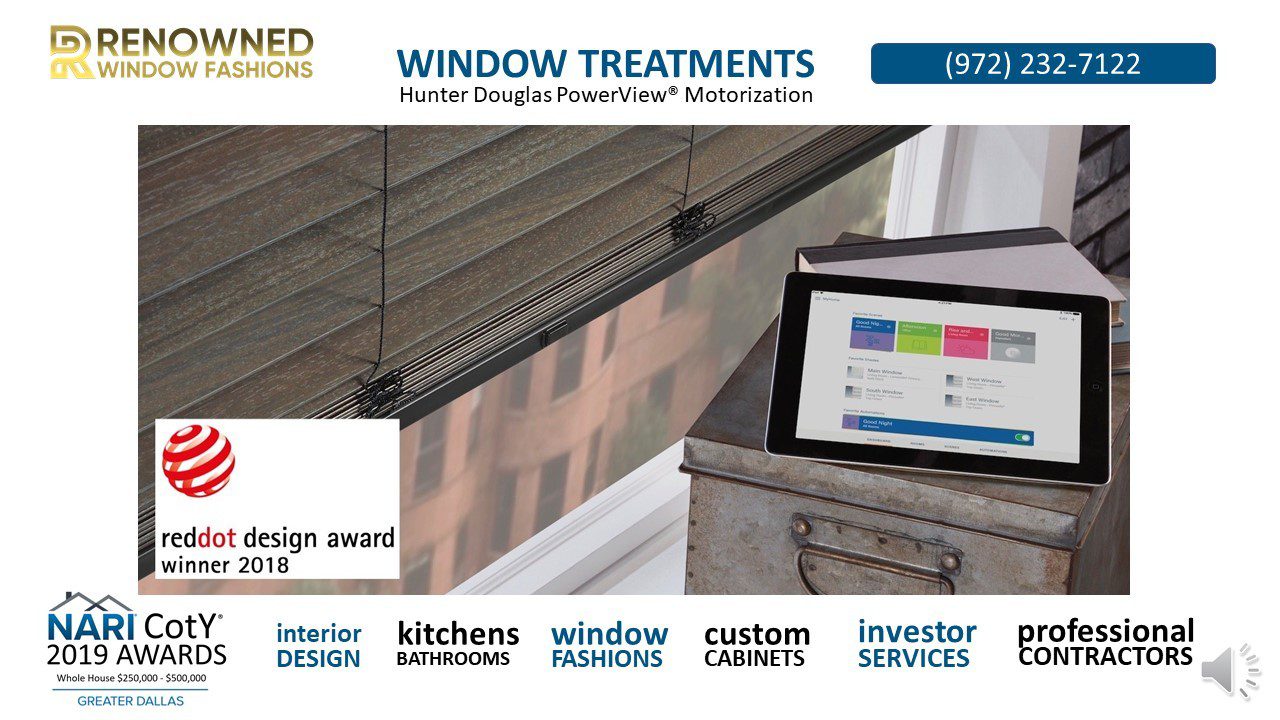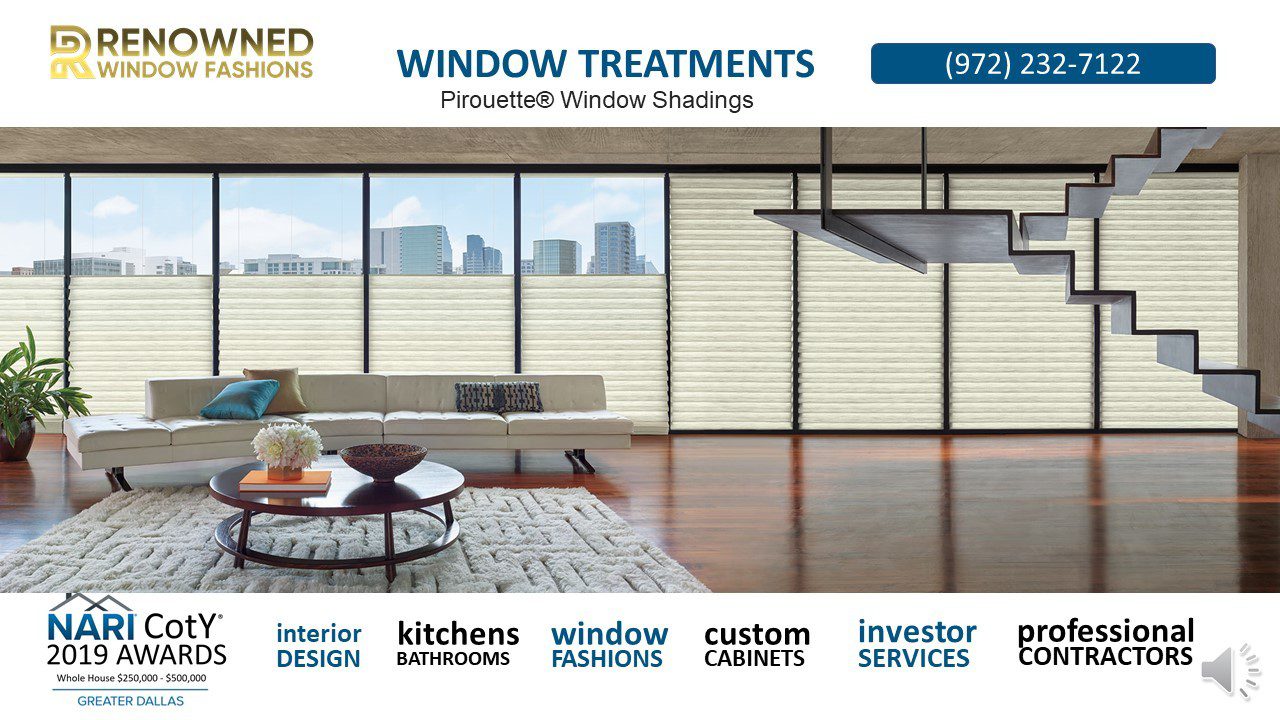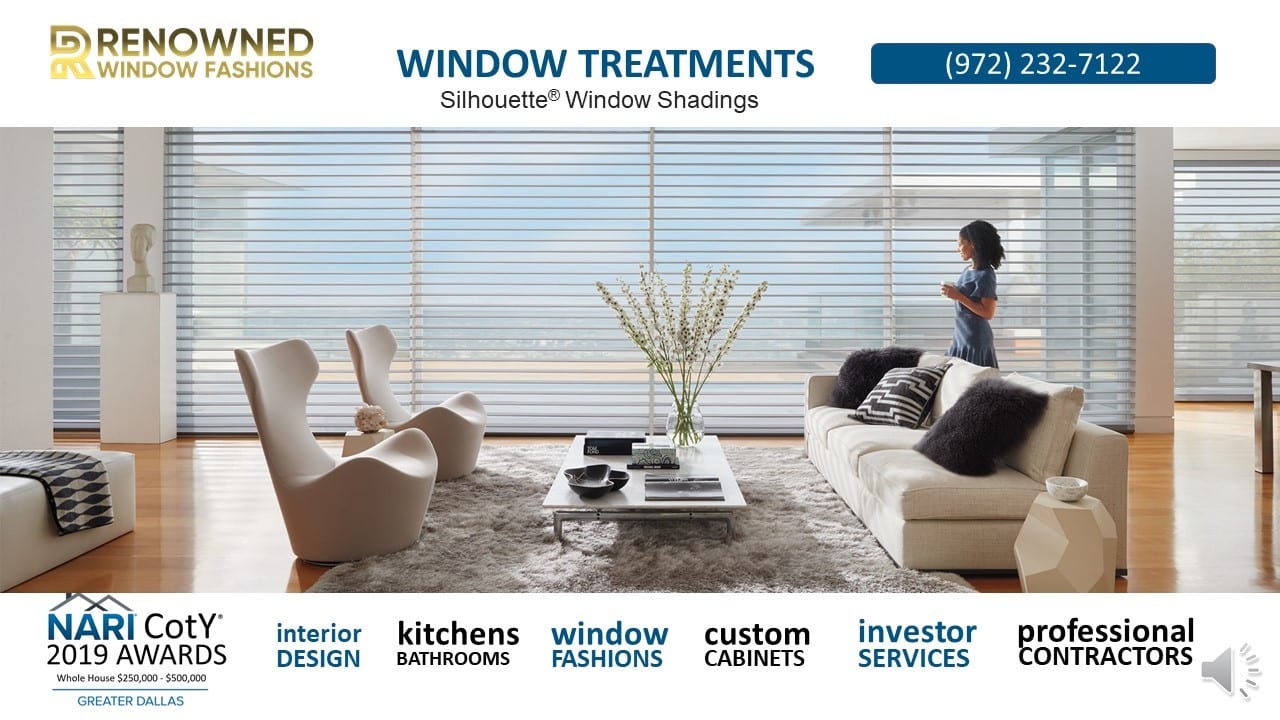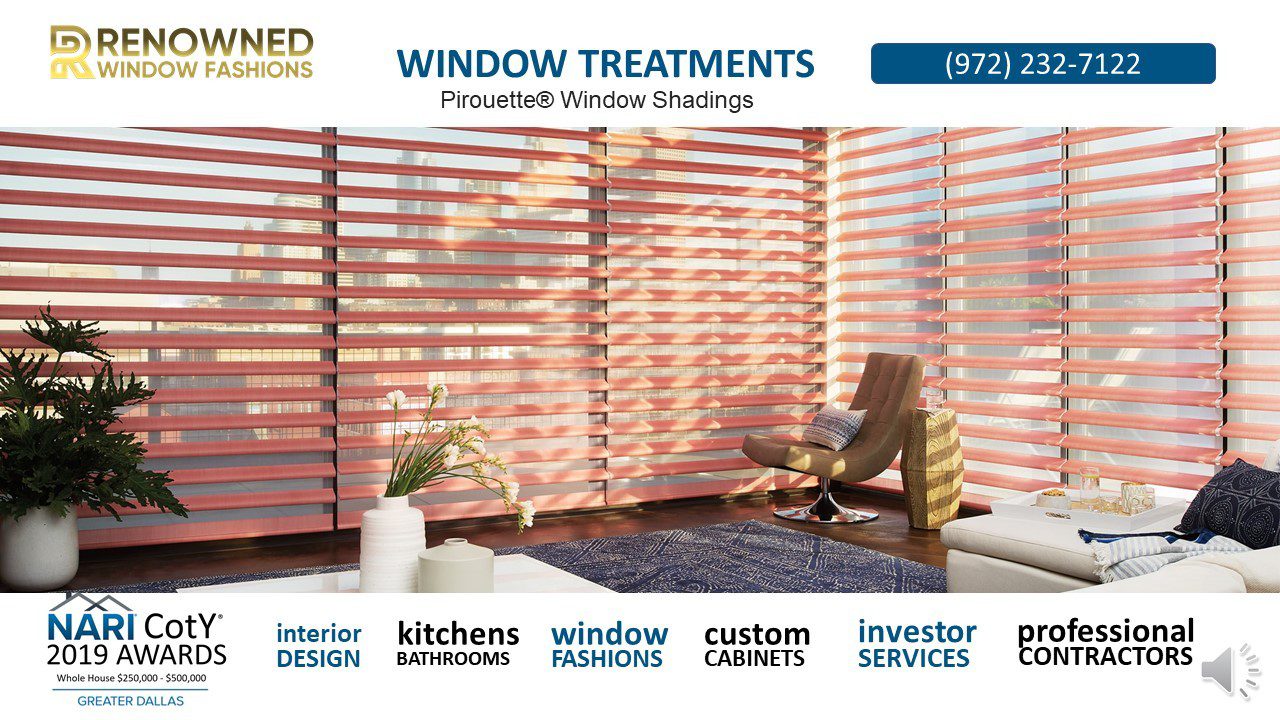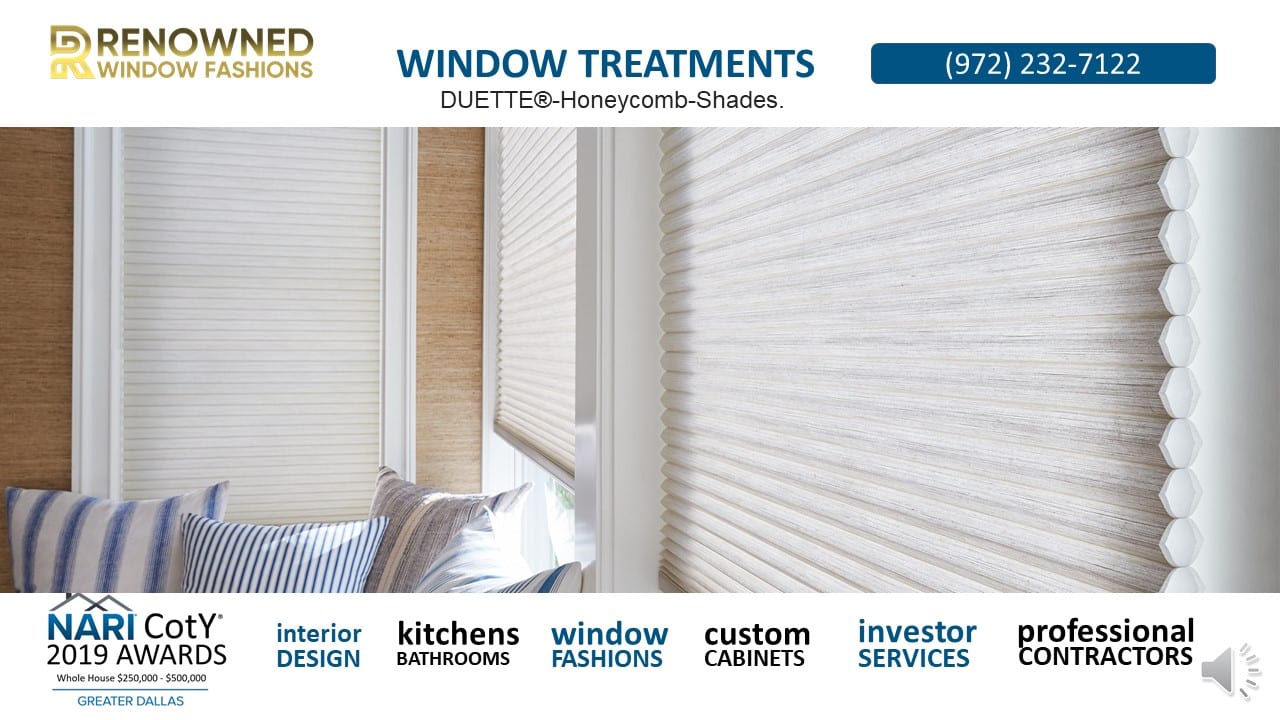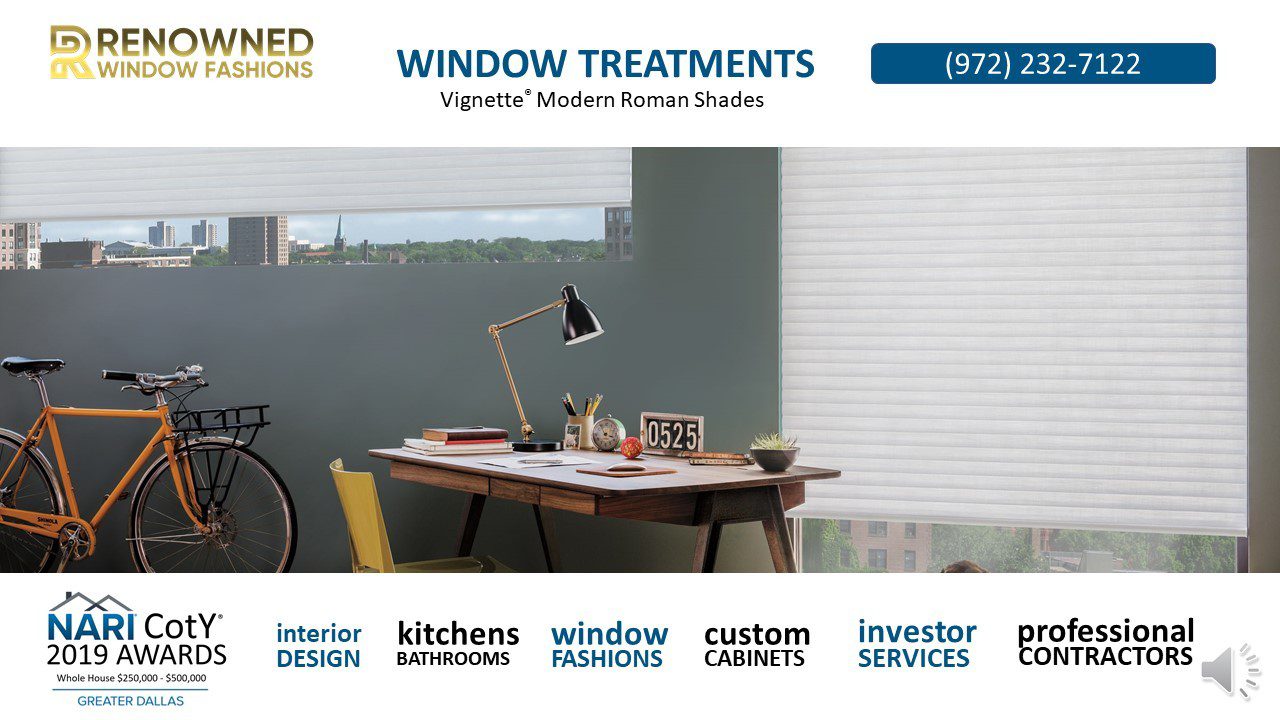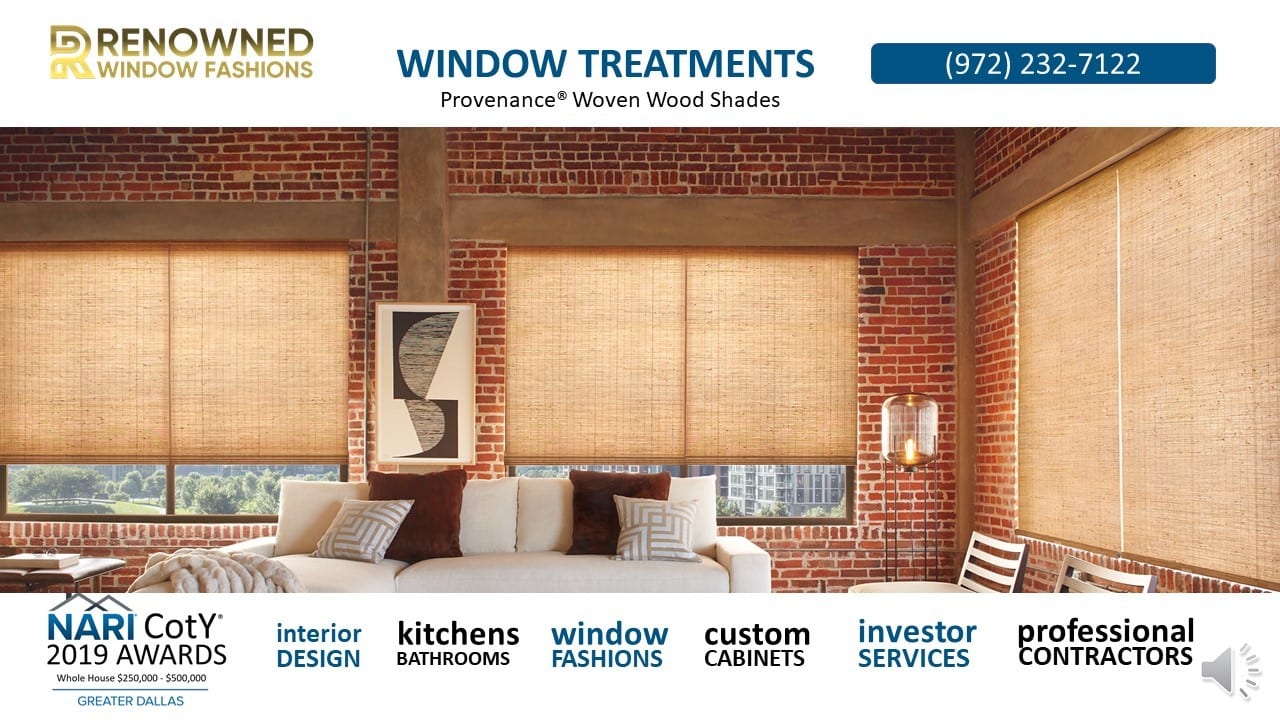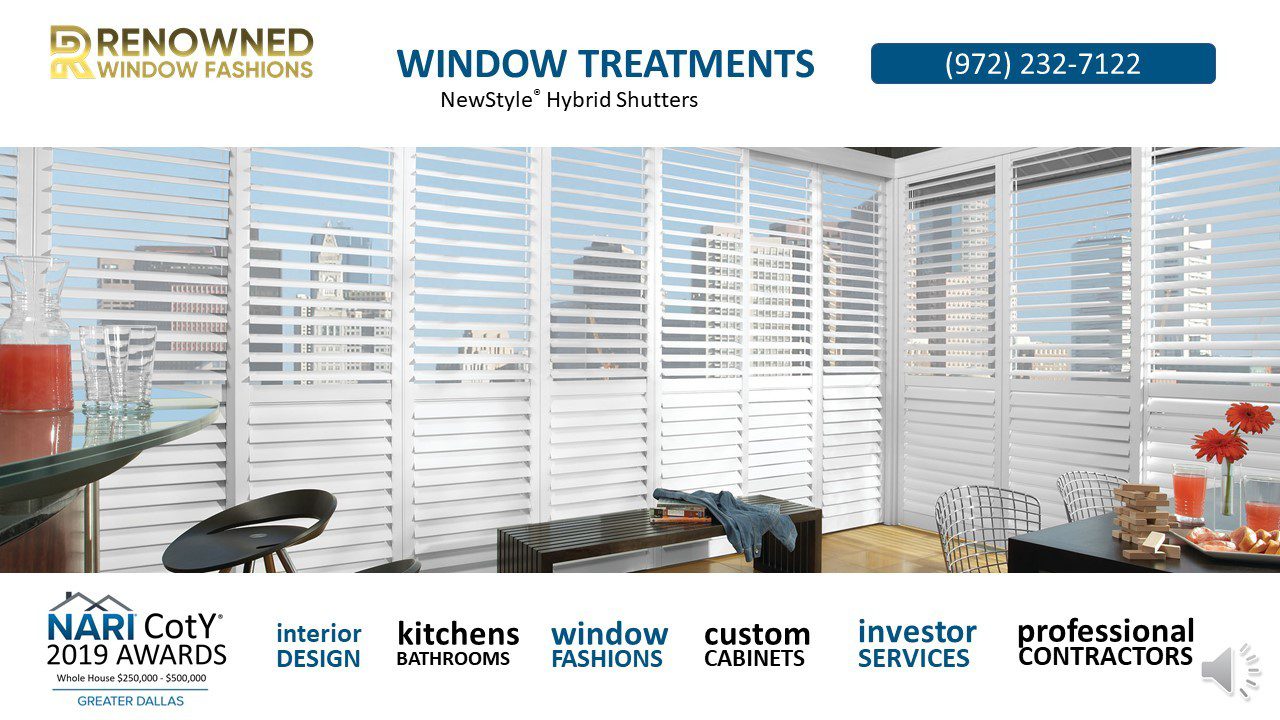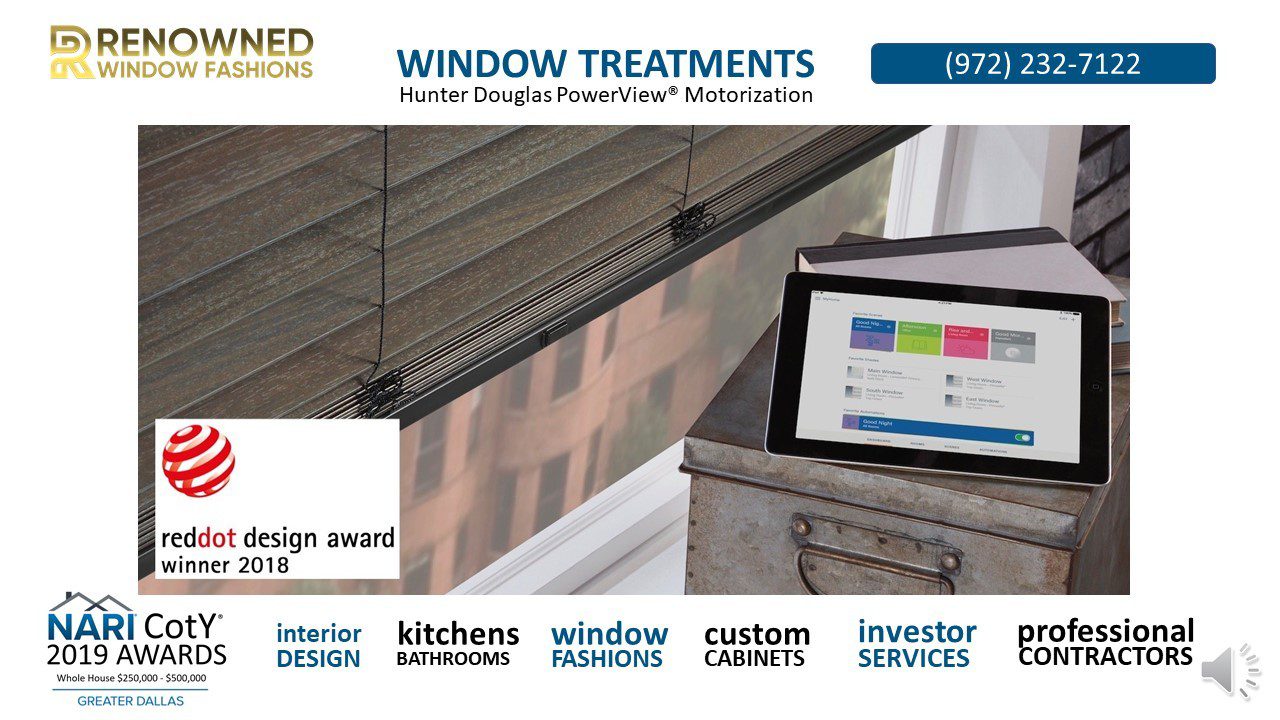 Renowned-Window Roller Shades
Renowend-Window-Fashions-Vignette® Modern Roman Shades
Renowend-Window-Fashions-Silhouette® Window Shadings
Renowend-Window-Fashions-Pirouette® Window Shadings
Renowend-Window-Fashions-DUETTE®-Honeycomb-Shades.
Renowend-Window-Fashions-Sonnette™ Cellular Roller Shades
Renowend-Window-Fashions-Provenance® Woven Wood Shades
Renowend-Window-Fashions-NewStyle® Hybrid Shutters
Renowened-Window-Fashions-Pleated Shades
Renowened-Window-Fashions-Hunter Douglas PowerView® Motorization
The best way to discover the perfect window blinds, shades, shutters & sheer window treatment for your home is to visit Renowned's Highland Park Showroom and talk with one of our experts who can walk you the options best suited for window covering needs. Renowned Renovation is your local Hunter Douglas dealer for Highland Park, TX and the surrounding areas. Our experienced design professionals will help you choose the colors, textures and finishes that complement your interior décor beautifully. We will also measure your windows to ensure a perfect fit. Contact us today to see the Hunter Douglas collections in person!
Of the 6 types of window blinds, shades and sheers we sell, the most popular is the designer roller shade. The pirouette is the most expensive. Hunter Douglas' Power View is gaining popularity. Roman shades and woven wood are also very much in demand.
Window Automation - Designer Roller Shades with PowerView
®

Motorization
Renowned Designer Roller Shades have an immaculate presentation. They are versatile and come in premium styles. Roller Shades are great for a minimalist look, and they also are good under drapery panels in more traditional settings.

We have over 300 fabrics to create the perfect look for your space with sheers or opaque material. Roller shades can be customized with different top and bottom rollers shades and blinds.

Paired with the PowerView® Motorization system from Hunter-Douglas, controls your roller shades from any smart device or the Pebble® remote. You can schedule when your shades open and close anyway that suits your lifestyle.
Our Designer Roller Shades are designed and made in the U.S.A. for the highest level of quality. All window treatment from Hunter Douglas is covered by their lifetime limited warranty.Enjoy the convenience of PowerView® in your home! Contact us today for more information >
Beautiful Shades Moving To Your Schedule
Imagine a world where your window treatments adjust themselves automatically, creating the perfect room ambiance morning, noon and night. That's the beauty of PowerView® Motorization—recipient of the 2018 Red Dot Design Award, the most coveted and prestigious designation in the world of design.

Just program PowerView to move your window treatments to the exact position you want and then control and schedule them using the intuitive PowerView App. You can also operate your PowerView settings using the PowerView Pebble® Control, or with voice commands using devices from Amazon.
Sheers and Shading
Window sheers and shading are innovative light-diffusing window treatments that transform light and provide UV protection for your furniture, floors, and artwork.
Silhouette® Window Shadings from Hunter Douglas feature soft adjustable fabric vanes that appear to be floating between two sheer fabric panels that beautifully diffuse harsh sunlight. Simply tilt the vanes to achieve your desired level of light and privacy. Learn more about Silhouette®​ Window Shadings.
Hunter Douglas' Pirouette® Window Shadings feature soft horizontal fabric vanes attached to a single sheer backing. This allows for enhanced views to the outside while maintaining privacy and the full beauty of the fabric on the inside. Learn more about Pirouette® Window Shadings.
For wide windows and sliding doors, Hunter Douglas's Luminette® Privacy Sheers come in an array of sheer and drapery-like fabrics for unlimited light-control and privacy options.
Clean, crisp and modern, Skyline® Gliding Window Panels offer a sleek answer for both large and small window expanses. Open, they stack tightly to offer the maximum view; closed, they display their rich fabrics and texture. Available in over 600 roller and screen-style fabrics, these window panels also coordinate seamlessly with our Designer Roller and Screen Shades. Learn more about Window Blinds.
Vertical Blinds feature patented curved vanes, mimicking soft drapery folds that move smoothly and quietly along their track; ideal for elegant styling and translucency
Learn more about Gliding Window Blinds
Clean, crisp and modern, Skyline® Gliding Window Panels offer a sleek answer for both large and small window expanses. Open, they stack tightly to offer the maximum view; closed, they display their rich fabrics and texture. Learn more about Skyline® Gliding Window Blinds.
Roman Shades
For a more clean-lined architectural look Romans Shades are a better choice than full-length drapery. Custom, full-length drapery has a reputation for richness and drama, but it isn't necessarily the best choice for every room. Where a more streamlined look is desired or space is at a premium, Roman shades—fabric window coverings that stack neatly at the top of the window when retracted—may be the better option.
Here are 3 types of custom-made Roman shades that combine the look of soft fabric folds with the ease and convenience of a shade
Vignette® Modern Roman Shades feature consistent folds and no exposed rear cords, keeping windows uncluttered and safer. Choose from different fold styles and sizes, and beautiful fabrics that are low maintenance and easy to clean. Learn more about Vignette® Modern Roman Shades.
Made of woven and non-woven fabrics, Solera® Soft Shades create a fluid, sculpted look. It is a soft shade with cellular construction available in both light-filtering and room-darkening options.
They can be paired with smart phone and home automation to move shades automatically to their perfect positions throughout the day. Innovative operating system design options such as Top-Down/Bottom-Up, TrackGlide™ and Duette Duolite® make these shades a top choice for any window, skylight or even specialty window shapes like arches, sidelights and circles.
Duette shades are available in a single-cell design as well as the industry-leading Duette Architella®, which features a honeycomb within a honeycomb for maximum energy efficiency. By continually innovating and pairing designs with the most elegant high-performance fabrics homeowners get long-lasting window treatments whose beauty, functionality and durability are like none other.
Window Woven Wood
Crafted from natural woods, reeds, bamboo and grasses, Provenance® Woven Wood Shades lend beauty and light to transform your décor. From textured fabrics to lighter more refined weaves, natural fibers add an organic style to your room filtering sunlight beautifully.
Provenance shades are available in three distinct styles—Roman, Waterfall Roman and Vertical Drapery—and can be installed with or without an attached liner. Liners are available in both light-filtering and room-darkening opacities for enhanced control of light and privacy.
No other woven wood shade in today's market offer such innovation. Provenance shades are available with PowerView Motorization and its hub, a wireless system offering the ultimate convenience. Using the mobile devices you already use each day, you can schedule your shades to adjust automatically. Or, choose from several other state-of-the-art operating systems like UltraGlide, LiteRise and EasyRise. All of these systems are perfectly housed by the Modern Headrail, the first metal headrail of its kind in the woven wood category. Decorative options including edge banding and optional valance styles afford unlimited possibilities for additional customization.
However you choose to enhance them, Provenance Woven Wood Shades are designed and custom-crafted in the U.S. with the highest level of quality. Best of all, every window treatment from Hunter Douglas is covered by our lifetime limited warranty.
Window Shutters
Experience craftsmanship and privacy with classic plantation shutters in long-lasting materials and finishes
Classic Heritance® hardwood shutters are plantation-style shutters crafted from real wood and use dovetail construction for maximum strength and durability. Available in a large selection of stain and paint finishes.
Learn about Heritance Hardwood Shutters.
The NewStyle® Hybrid Shutters are plantation-style shutters that blend the beauty of real wood and advanced modern-day materials to create a stunning and durable window covering for any room.
Learn more about NewStyle® Hybrid Shutters.
Honeycomb Shades
Some of the window treatment designs that lead the industry today, include the Duette® Honeycomb Shade, whose shape provides revolutionary energy-efficiency benefits.
Duette shades are available in an expansive range of pleat sizes, fabrics, colors, opacities and textures. See more
Window treatments do more than just cover windows.
Today's Modern Window Coverings manage light, privacy and the energy needs of a today's home. They have evolved into innovative window treatments that add value and style to any room.